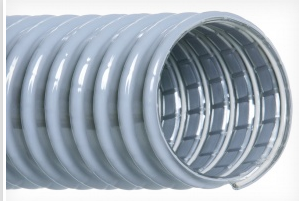 Super Vac-U-Flex® Hose is suitable for handling air, chemical fumes, liquids and light materials at moderate pressures, positive or negative. Super Vac is very flexible for ease of handling and installation, yet possesses strength for durable service including repeated flexing applications.
Typical Applications:
• Commercial or industrial vacuum cleaners
• Pneumatic materials handling equipment
• Cooling or ventilating business and photo machines
• Venting of undesirable odors
Construction:
Cover: reinforcing yarns of high strength fiber applied
between piles of flexible ethylene vinyl acetate or polyvinyl chloride.
Temperature range: -20℉ to 150℉
Color: Gray
| I.D. | Price Per Foot Length | End Cuffs |
| --- | --- | --- |
| 1.25" | $1.97 | $5.99 |
| 1.50" | $2.27 | $5.85 |
| 1.75" | $2.64 | $14.03 |
| 2" | $2.81 | $15.77 |
| 2.25" | $3.50 | $18.23 |
| 2.50" | $3.90 | |
| 3" | $4.35 | |
| 4" | $5.65 | |
| 5" | $6.90 | |
| 6" | $8.08 | |