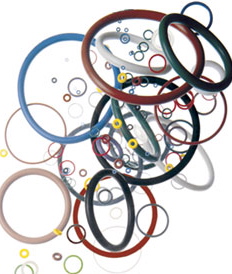 We have hundreds of stock sizes of "O" Rings available in the following compounds:
Nitrile: 70 & 90 durometer
Silicone: 70 durometer
Viton: 75 durometer
Ethylene Propylene: 70 durometer
Metric Nitrile: 70 durometer
Also available: General usage industrial square rings, SAE 120R Class I & II. Meets FDA requirements.

"O" Ring kit
Our "O" Ring Kits feature 25 most popular sizes. Materials offered range from standard compounds such as multipurpose nitrile (buna) rubber, to more exotic materials such as Viton® (generally called fluorocarbon) and Teflon® (also called PTFE.) All of the kits come in sturdy plastic containers produced in either translucent polypropylene or opaque styrene plastic. Each container includes helpful cards indicating size and quantity of seals in each compartment.