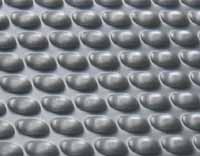 Our Reflex Matting has a unique "dome" design, having the look of tile without seams. This PVC matting offers durability and performance in a variety of applications. Reflex can be used for flooring, shelving and display applications.
Specifications :
Width: 24", 36", 48"
Color: Black, Metallic Gray
Roll length: 25 yds.
Weight: Approx. 8.5 lbs./sq.yd.
 

Price per Yard

 

24"

36"

48"

Cut length

$20.75

$28.75

$38.30

1-2 Rolls

$17.65

$23.95

$31.95

3+ Rolls

$13.80

$20.65

$27.55