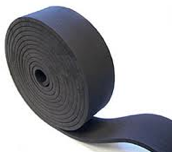 Canal Rubber Supply is able to supply solid or foam rubber stripping in a variety of materials, widths and thicknesses. In addition, most of the materials can have a Pressure Sensitive Adhesive (PSA) backing applied to one or both sides to make installation easier.
Solid Rubber Stripping Available
Buna-N
Butyl
Cloth Inserted
EPDM
Hypalon
Neoprene
Polyurethane
Red Rubber
SBR
Silicone
Tan Pure Gum
Foam Rubber Stripping Available
Closed Cell Neoprene Sponge
EPDM Sponge
Natural Rubber Sponge
Open Cell Neoprene Sponge
Polyethylene Foam
Polyurethane Foam
Silicone Sponge
Please call for inquiry or order.