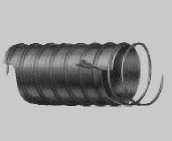 Available in either one or two ply versions, our Fabric Covered Flexible Ventilation Hose is an industry standard for general purpose ducting. Constructed of a polyester-neoprene coated blend with wire reinforcement, this hose is flame retardant to UL94V-0.
Typical Applications: Positive or negative pressure movement of light particles or materials such as; abrasion dust removal, air handling systems and vacuum cleaning
Temperature range: -40℉ to +250℉
Length: 25'
PLEASE CALL FOR PRICES. PRICE CHART UNDER CONSTRUCTION.