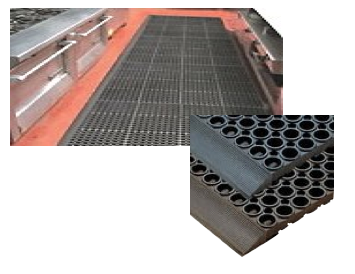 Our heavy duty, grease resistant San-Eze® Mat, a Teknor Apex product, is an excellent food service mat. Available in 100% nitrile rubber Brown and standard nitrile rubber blend Black. The 100% nitrile rubber Brown mat is manufactured with MicroStop™, an anti-microbial rubber compound that inhibits the growth of bacteria and fungi to provide a cleaner, healthier work environment. The Brown mat has been tested and certified by the National Sanitation Foundation (NSF) for grease, oil protection and durability.
San-Eze® provides sure traction in wet or greasy areas.This mat has a modular design with a connecting system for longer lengths and custom configurations. Attachable ramps are available.
Thickness: 7/8"
Color: Black, Brown
 

 

Price per Piece*

Sizes

Weight

Black

Brown

Full: 39"x 58 ½"

38.0 lbs.

Square: 39" x 39"

25.0 lbs.

Medium: 39" x 29 ¼"

19.0 lbs.

Small: 39" x 19 ½"

12.5 lbs.

.
*Updating. Please call.