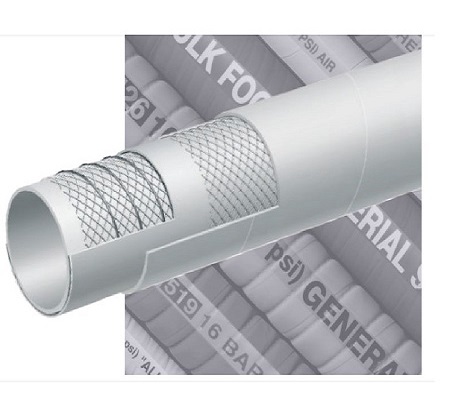 Applications for T405LL White Food Grade Hose :
Liquid, Fatty, Oil food and alcoholic beverage (max 75 proof) Suction and discharge. T405LL White Food Grade Hose may be sterilized with 5% soda solution. Not Recommended for dry abrasive materials.
Cover :
White NBR/PVC – Abrasion, Ozone and Oil Resistant.
Reinforcement :
Spiraled high tensile textile cords with flexible steel helix wire.
Tube :
White NBR – Meets FDA and 3A (18-03) Requirements.
Working Pressure :
Constant Pressure – 10 bar (150 PSI)
Temperature Range :
-22°F (-30°C) to 212°F (+100°C)
Standard Length :
100 Feet

| Serial | ID | Standard Length | Price |
| --- | --- | --- | --- |
| T405LL100 | 1" | 100Ft | $512.50 |
| T405LL150 | 1.5" | 100Ft | $653.75 |
| T405LL200 | 2" | 100Ft | $732.50 |
| T405LL300 | 3" | 100Ft | $1081.25 |
| T405LL400 | 4" | 100Ft | $1556.25 |