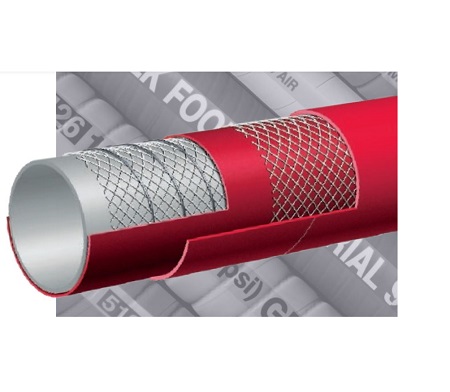 Applications for the T422LH Brewery Hose :
Liquid food and alcoholic beverage suction and discharge (up to 95 proof). Kuriyama's Alfagomma T422LH Brewery hose is versatile for applications requiring superb flexibility and light weight. Still maintaining high strength and durability.

Construction :
Tube – White Chlorobutyl meeting 3A (18-03) and FDA requirements.
Reinforcement – High tensile textile cords with specially designed embedded helix wires.
Cover – Red smooth NR/EPDM blend for abrasion and
ozone resistance.
Service Temperature Range :
-22°F (-30°C) to +226°F (+108°C)
Features of the T422LH Brewery Hose :
Uniquely designed for maximum flexibility, can be bent easily around brewery equipment and also works well in tight spaces.
Up to 25% lighter weight than similar rubber hoses, while still maintaining 150 PSI working pressure.
High Heat Resistance – Chlorobutyl tube capable of handling +226°F (+108°C) on a continuous basis. Allows for sterilization with +266°F (+130°C) steam for 30 minutes or with 5% soda solution.
High Purity Tube – Will not impart odor or taste.
Smooth Cover – Designed for easy cleaning, no gaps or crevices for dirt or bacteria to hide. Also provides smooth surface for clamping.

| Serial | Size | Standard Length | Price |
| --- | --- | --- | --- |
| T422LH100x100 | 1" | 100ft | $607 |
| T422LH125x100 | 1.25" | 100ft | $895 |
| T422LH150x100 | 1.5" | 100ft | $975 |
| T422LH200x100 | 2" | 100ft | $1133 |
| T422LH250x100 | 2.5" | 100ft | $1736 |
| T422LH300x100 | 3" | 100ft | $1785 |
| T422LH400x100 | 4" | 100ft | $2460 |