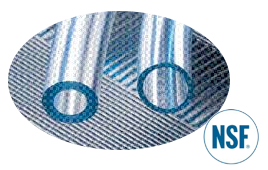 Clear non-toxic food and beverage grade PVC tubing.
Construction:
Crystal clear compound, formulated with ingredients in compliance with applicable FDA requirements, meets USDA, 3A, NSF, UL, RoHS and USP Class VI criteria.
Features:
High gloss crystal clear appearance with glass smooth interior to reduce sediment buildup.
Non-toxic tint to enhance clarity.
NSF-31 and NSF-61 certified material.
Self-extinguishing.
Compound hardness 73+Shore "A".
Temperature range: 25ºF to 150ºF.
Applications:
Tubing for laboratories.
Water distillation lines.
Deionized water systems.
Air conditioning drainage.
Refrigeration drainage.
Air lines.
Bottling lines.
Beverage dispensing units.
Ice making machines.
Printing press equipment.
High efficiency furnace drainage.
Transfer of weak chemicals and acids.
Note: Many sizes available in cut lengths.