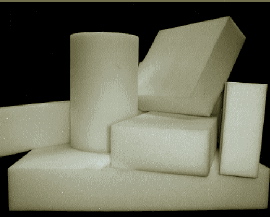 Our wide selection of Polyurethane Foam products is commonly used in applications such as mattress bedding, seating, cushioning, Polyurethane Foam can also be used for shock and sound dampening and gasketing. Higher density products are recommended for seating and sleeping requirements. For more demanding applications, ultra high density is preferred.
*Typical Value: All grades are available from Soft to Extra Firm.
** Meets Cal 117.
Note: For rolled material, see Foam by the Roll.
| | | | | |
| --- | --- | --- | --- | --- |
| | STANDARD | MEDIUM | XL** | |
| | 1.15 | 1.8 | 2.65 | |
| Stock Sizes* | 35 lbs. | 44 lbs. | 45/65 lbs. | |
| 24"x75"x 1" | | | $26.65 | |
| 24"x75"x 2" | | $40.10 | $53.40 | |
| 24"x75"x 3" | $42.95 | $60.00 | $80.00 | |
| 24"x75"x 4" | $57.25 | $79.99 | $106.69 | |
| 24"x75" x 5" | | $100.00 | | |
| 24"x75"x 5 ½" | | $109.95 | $147.90 | |
| | | | | |
| 30"x 75"x 3" | $53.00 | $75.75 | $100.90 | |
| 30"x 75"x 4" | $71.60 | $101.70 | $134.50 | |
| 30"x 75"x 5" | | $127.10 | | |
| 30"x 75"x 5 ½" | | $138.25 | $184.60 | |
| | | | | |
| 36"x 75"x 1" | | | $40.80 | |
| 36"x 75"x 2" | | $59.35 | $80.80 | |
| | | | | |
| 39″x 75"x 4" | $91.85 | $129.35 | $165.55 | |
| 39″x 75"x 5 ½" | | $178.75 | $227.20 | |
| 54"x 75"x 1" | | | $57.15 | |
| 54"x 75"x 2" | $64.10 | | | |
| 54"x 75"x 3" | $95.75 | | | |
| 54"x 75"x 4" | $127.25 | $174.35 | $228.45 | |
| 54"x 75"x 5 ½" | | $239.85 | $309.65 | |
| | | | | |
| 60"x 80"x 1" | | $50.93 | $68.50 | |
| 60"x 80"x 2" | | $101.85 | $136.95 | |
| 60"x 80"x 4" | $153.25 | $203.70 | $273.90 | |
| 60"x 80"x 5 ½" | | $281.25 | $376.14 | |
| | | | | |
| 78"x 80"x 1" | | $67.10 | $88.58 | |
| 78"x 80"x 4" | $197.60 | $268.35 | $354.30 | |
| 78"x 80"x 5 ½" | | $368.00 | $484.45 | |
| | | | | |
| Cut Pieces per Square Ft (Sheet Width) | | | | |
| 3" | $4.45 | $6.10 | $8.40 | |
| 4" | | $7.85 | $11.20 | |
| 5 ½" | | $10.70 | $15.65 | |