APPLICATION of the Kuriyama LLGR Hose:
High Pressure Sewer Cleaning – Applications for commercial, industrial and residential.
Tight Pipe Bends – Slick, Slither® cover affords an easier handling hose to get the job done.
Jetting/Lateral Line – Used for jetting equipment.
FEATURES & ADVANTAGES :
Materials – Constructed to provide rugged and reliable service under the most severe and demanding conditions.
Yellow Color Tube – Assures the user that they are using a WASTEC designated Piranha® Hose Product.
Seamless Thermoplastic Tube – Provides maximum resistance to hydrolysis.
High Tensile Double Synthetic Fiber Braids – Contributes to low volumetric expansion and eliminates loss of strength from moisture absorption.
Abrasion Resistant Polyether-Urethane – Polyurethane cover provides exceptional cut, abrasion and fungus resistance.
Slither® Cover – Cover is ultra slippery; allows hose to maneuver around and through difficult sewer bends.
Pressure Testing – All Piranha® factory-assembled Kuriyama LLGR Hose are 100% pressure tested.
Reel Installation – Ideal for truck and trailer mounts.
TUBE:
Yellow seamless thermoplastic
REINFORCEMENT:
High tensile double synthetic fiber braids
COVER:
Abrasion resistant polyether-urethane. (Standard)
Slither® – Polyether-urethane low coefficient of friction. (Optional)
TEMPERATURE:
1/8″, 3/16″, 1/4″ and 3/8″ ID size is -40ºF (-40ºC) to +160ºF (+71ºC)
1/2″ ID size is -40ºF (-40ºC) to +150ºF (+66ºC)
LENGTHS:
Stock Lengths – 400, 500, and 600 foot rolls.
Custom Lengths – Available and made to order.
Jetting/Lateral Lines – Available for bulk and/or assemblies.
COLORS:
Green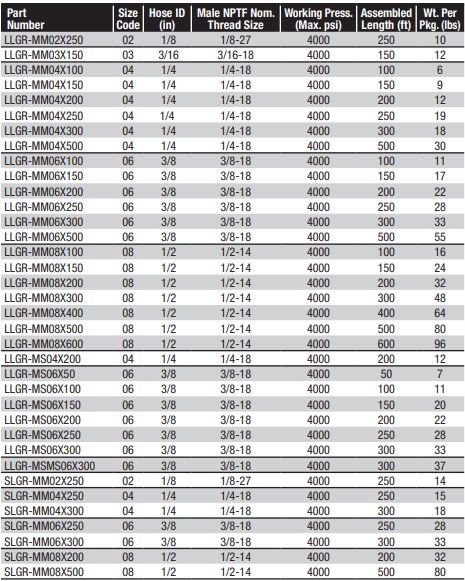 | Serial | ID | Standard Length | Price |
| --- | --- | --- | --- |
| LLGR-MM02x50 | 1/8" | 50ft | $48.42 |
| LLGR-MM02x100 | 1/8" | 100ft | $66.66 |
| LLGR-MM02x150 | 1/8" | 150ft | $88.41 |
| LLGR-MM02x200 | 1/8" | 200ft | $115.52 |
| LLGR-MM02x250 | 1/8" | 250ft | $144.72 |
| - | | | |
| LLGR-MM03x150 | 3/16" | 150ft | $100.42 |
| - | | | |
| LLGR-MM04x100 | 1/4" | 100ft | $94.46 |
| LLGR-MM04x150 | 1/4" | 150ft | $125.72 |
| LLGR-MM04x200 | 1/4" | 200ft | $157.31 |
| LLGR-MM04x250 | 1/4" | 250ft | $186.17 |
| LLGR-MM04x300 | 1/4" | 300ft | $228.65 |
| LLGR-MM04x500 | 1/4" | 500ft | $380.33 |
| - | | | |
| LLGR-MM06x100 | 3/8" | 100ft | $129.73 |
| LLGR-MM06x150 | 3/8" | 150ft | $193.28 |
| LLGR-MM06x200 | 3/8" | 200ft | $231.06 |
| LLGR-MM06x250 | 3/8" | 250ft | $280.81 |
| LLGR-MM06x300 | 3/8" | 300ft | $328.78 |
| LLGR-MM06x500 | 3/8" | 500ft | $542.02 |
| - | | | |
| LLGR-MM08x100 | 1/2" | 100ft | $233.41 |
| LLGR-MM08x150 | 1/2" | 150ft | $350.12 |
| LLGR-MM08x200 | 1/2" | 200ft | $466.82 |
| LLGR-MM08x300 | 1/2" | 300ft | $700.25 |
| LLGR-MM08x400 | 1/2" | 400ft | $933.66 |
| LLGR-MM08x500 | 1/2" | 500ft | $1167.07 |
| LLGR-MM08x600 | 1/2" | 600ft | $1400.48 |
| - | | | |
| LLGR-MS04x200 | 1/4" | 200ft | $157.31 |
| LLGR-MS06x50 | 3/8" | 50ft | $64.91 |
| LLGR-MS06x100 | 3/8" | 100ft | $129.73 |
| LLGR-MS06x150 | 3/8" | 150ft | $202.16 |
| LLGR-MS06x200 | 3/8" | 200ft | $231.06 |
| LLGR-MS06x250 | 3/8" | 250ft | $280.81 |
| LLGR-MS06x300 | 3/8" | 300ft | $328.78 |
| LLGR-MSMS06x300 | 3/8" | 300ft | $328.78 |