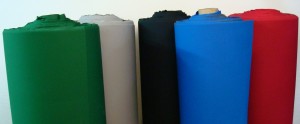 Proudly made in the USA our Mouse Pad Sheet Rubber typically combines sponge rubber and fabric. Our Mouse Pad Sheet Rubber is composed of open cell sponge and a low static polyester fabric. The result produces an open cell sponge rubber product with an excellent tracking surface.
With this in mind, a common use of Mouse Pad is for computer mouse tracking. In addition, this material is also used in applications such as shock absorption and cushioning.
Moreover, additional protection to a finished surface is achieved. Lastly, our Rubber is an excellent cover for card or tabletop game tables. 
Roll size : 1/4″ x 54″ x 25 yds.
Color : Black, Red, Green, Grey, Blue
Price Chart
Cut Yard
(54" Wide Rolls)
Per Yard/ Full Roll
1 - 2 Rolls
3+ Rolls
Black
$44.50 / yd
$37.85 / yd
$34.05 / yd
Colors
$49.95 / yd
$42.45 / yd
$38.25 / yd